...med lite -čići till.
För länge länge sen på en matblogg långt bort i en annan galax -
Ragazze
så las det upp ett litet recept från "Mat Tina" på en rätt som kallas för "Cevapcici". Ursprunget, well -
läs kommentarerna till inlägget först
...
Nu, ett gäng år senare så kunde vi inte hålla oss från detta och googlade loss lite och Wkikipediade lite. "Svaret" är enligt följande:
Namnet
Ordet ćevapčići kommer från sydslaviskan, ursprungligen det turkiska kebap (-ćevap) med den sydslaviska diminutivändelsen '–čići'. Motsvarande maträtt heter på: makedonska: Ќебапи, ćebapi, kroatiska och bosniska: ćevapčići/ćevapi samt slovenska: čevapčiči.
Tack Wikipedia
Rätten
a grilled dish of minced meat, a type of kebab, found traditionally in the countries of southeastern Europe. They are considered a national dish in Bosnia and Herzegovina, Bulgaria and in Serbia. They are also common in Croatia, Montenegro, Slovenia, as well as in Republic of Macedonia, Romania, Czech Republic, Slovakia, Austria and the Italian provinces bordering Slovenia.
They are usually served of 5-10 pieces on a plate or in a flatbread (lepinje or somun), often with chopped onions, sour cream, kajmak, ajvar, cottage cheese, minced red pepper and salt.
Bosnian ćevapi are made from two types of minced beef meat, hand mixed and formed with a funnel, while formed ćevapi are grilled.
Serb ćevapčići are made of either beef, lamb or pork or mixed.
Macedonian, Croatian, Bulgarian and Romanian varieties are often made of both pork and beef.
For the preparation of Bulgarian kebapcheta, a mix of pork and beef is typically used, many recipes involve only pork. The preferred spices are black pepper, cumin and salt. A single Bulgarian kebapche is much larger than a ćevapčić. As a consequence, whereas ćevapčići are eaten in portions of 5–10, a standard meal of kebapcheta consists of 1–3. A typical addition to a kebapche meal are French fries, often covered with grated sirene, and lyutenitsa. The expression "a three kebapcheta with sides" (тройка кебапчета с гарнитура, troyka kebapcheta s garnitura) is particularly well-known. The preferred drink to go with a kebapche is beer.
Tack Wikipedia igen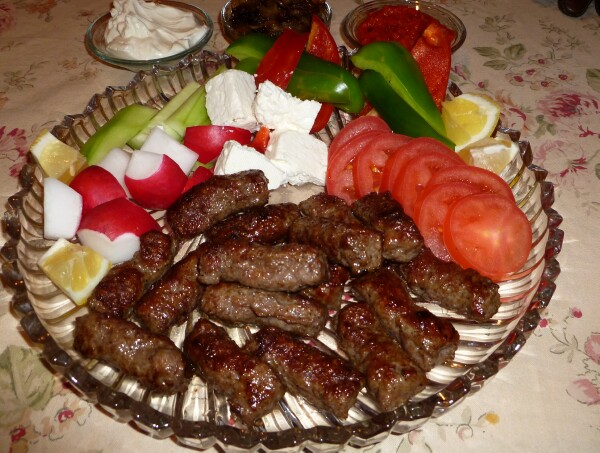 Vad tycker du om cevapcici(eller vad just du kallar den. "Pannbiffkorvar" kanske?)? Berätta för oss hur man bäst njuter denna skapelse!